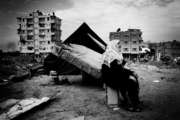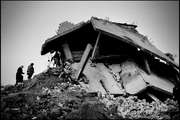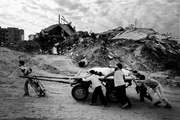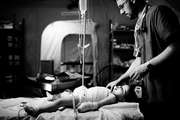 Gaza : Was it worth a war ? January 2009.
1330 Palestinians died, of whom 315 children. More than 5000 were injured. 4000 houses destroyed, 17 000 severely damaged. Schools, universities and mosques smashed by bombs are the tragic aftermath of the three-week Israeli attack in Gaza Strip.
Civilians and investigators of various Human Rights organizations, such as Human Rights Watch and Amnesty International, witnessed and denounced war crimes committed by the Israeli army. These organizations also blame Hamas for using some families as « human shields », forcing them to stay in their homes despite bombings.
24 pictures, with captions.
13 format 60X80 cm and 11 format 50X60 cm.
Schedule :
Scam, Paris. (2009).
Junge Welt gallery, Berlin, Germany. (2009).
Bazementizid gallery, Heilbronn, Germany (2009).